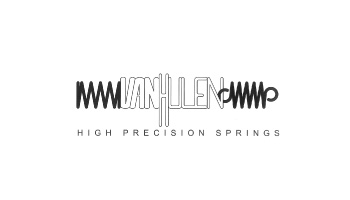 VANHULEN HIGH PRECISION SPRINGS SA
Défense, éléctrotechnique, éclairage,
automobile, spatial et aéro
1907
Rue haute Claire 3
ZI des Hauts Sarts Zone 2
B-4040 Herstal | Belgique
T : +32 (0)4 289 99 99
info@vanhulen.be
VANHULEN HIGH PRECISION SPRINGS SA
Activities/products: Compression, extension, torsion, double torsion springs. Bended wire. Induction coils. Leaf springs and stamped parts. Fragmentation body for grenade, mortar and rockets. Assembly of metal parts and plastic parts. Welding TIG-MIG-Laser.
Key markets: Defense-Aero-Automotive-Lighting-Electro-technic
References: Thales-EADS-Airbus-Embraer-Herstal Group-Schneider Electric–Philips-Legrand-GE-Thyssen Krupp-Rheinmetall.
Certifications: ISO9001:2015-EN9100:2018-IATF16949:2016-CSR RATING SILVER ECOVADIS